Restaurants & Bars
Beautiful views and great company are a perfect pairing to a good meal and delicious beverage. At the All-inclusive Grand Hotel Paraíso, the skilled chefs and bartenders in our Playa del Carmen restaurants aim to create an epicurean experience that is indelibly connected to the perfect vacation. Enjoy anything your palate desires, including à la carte Mediterranean, the fresh flavors of Japan, and everything in between. The resort boasts seven different bars, each one offering a different experience. Whatever the guest's pleasure, the fresh flavors of Maya cuisine come together to honor the history and tradition of La Riviera Maya.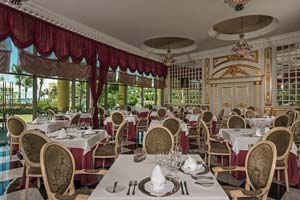 L'Atelier
gourmet restaurant
À la carte gourmet recipes with starters like tuna tartar with strawberries or mussel and passion-fruit salad, main dishes like shrimp and leek millefeuille or duck confit with almond mousse, and sweets like pistachio coulant or deconstructed sachertorte.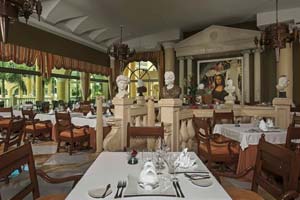 Venecia
Italian Restaurant
À la carte Italian specialties with starters like pane carasau with marinated open-water fish, creams and soups like creamy tomato soup, hearty dishes like shrimp risotto, tomato rigatoni or beef lasagna and special pastries like limoncello cream or tartuffe.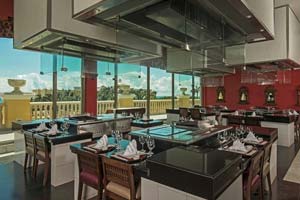 Haiku
Japanese Restaurant
À la carte Japanese restaurant with choice of table and teppanyaki menu. The menu includes sashimi and salads, soups, tempuras, maki rolls, sushi balls, nigiri and main dishes like salmon teriyaki or duck confit, along with different sides, vegetarian and gluten-free options and delicious desserts.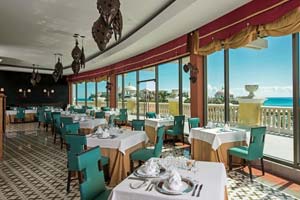 Toni's
Surt & Turf Restaurant
Customer's love this à la carte restaurant's recipes from the United States and Canada. It has a complete salad menu, including layers of pear with blue cheese; selection of shellfish like Canadian lobster of Alaskan crab; appetizers like crab casserole or beef and shrimp skewers; main dishes like grilled salmon with bay leaf mash or Angus beef sirloin in Porto wine sauce, seven side dishes of your choice and delicious desserts like chocolate volcano or cheesecake.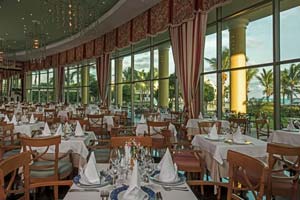 Bella Vista
Buffet
Buffet breakfast with a wide variety of fruit, milk, bread, cereal and cold cuts. Lunch and dinner buffet with international cuisine and Mexican specialties, featuring pasta, meat, fish, vegetables, salads, and special dishes prepared right in front of your very eyes. Theme nights.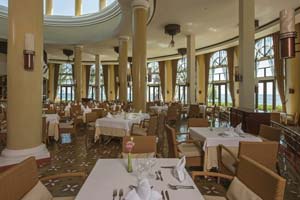 La Brisa
Caribbean Grill and Restaurant
With views of the Caribbean Sea, the buffet lunch on the beachfront has different islands tended to by their respective chefs, each preparing grilled specials during the day. À la carte gourmet dinner with seafood dishes served fresh or grilled. Menu with shellfish served in their shells, like the king crab legs or scallops with ceviche base; hot dishes like fresh-root corn and beans with tuna tataki with jalapeño-infused jaggery, raw fish like classic snapper ceviche or salmon rolls with its caviar; and chocolate passion or tocino del cielo pudding to top it off.
Rhapsody Cocktail Bar
Mixology Bar
The cocktails the bartenders whip up make this bar a favorite for our guests. Specially designed for music and sports lovers, Rhapsody is a sure bet for good vibes.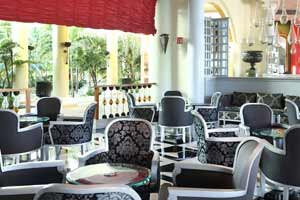 El Mirador
Lobby Bar
Located in the lobby, this bar is available for our guests to grab a drink or a quick bite to eat 24 hours a day.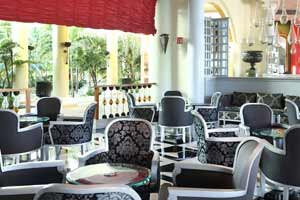 Coliseo
Theater Bar
Theater and cocktails? At the Coliseo Theater Bar, you can have both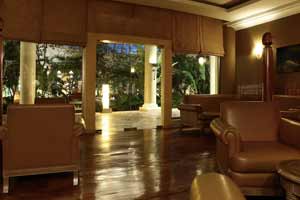 EsplÉndido
Cigar Bar
Located in the lobby, this bar is available for our guests to grab a drink or a quick bite to eat 24 hours a day.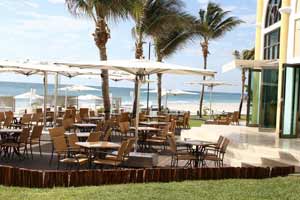 La Brisa
beach bar
La Brisa is the perfect bar for having a drink without straying from the beach.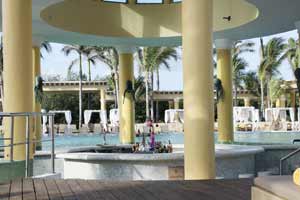 La Sirenita
Pool Bar
Guests don't have to leave the pool to enjoy a refreshing drink at La Sirenita.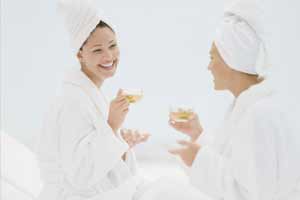 Health Bar
Healthy drinks
Exclusive bar at the spa, offering a wide range of healthy drinks